If you'd like to post a design you've made with VistaCreate to Facebook or Instagram, you have two options. You can post your designs directly to socials or you can schedule them.
How to connect your Facebook and Instagram accounts to VistaCreate
Step 1: Pick a Facebook or Instagram template format, customize it, and click "Post" in the upper right-hand corner of the artboard
Step 2: Click "Connect Facebook" (for Facebook) or "Connect via Facebook" (for Instagram)
Step 3: The popup menu will offer you to connect your VistaCreate account to social media. Make sure you're logged into your business Facebook or Instagram account. Click "Give Access". To change social media accounts, you must log out of your current account and switch to the one you want to post to.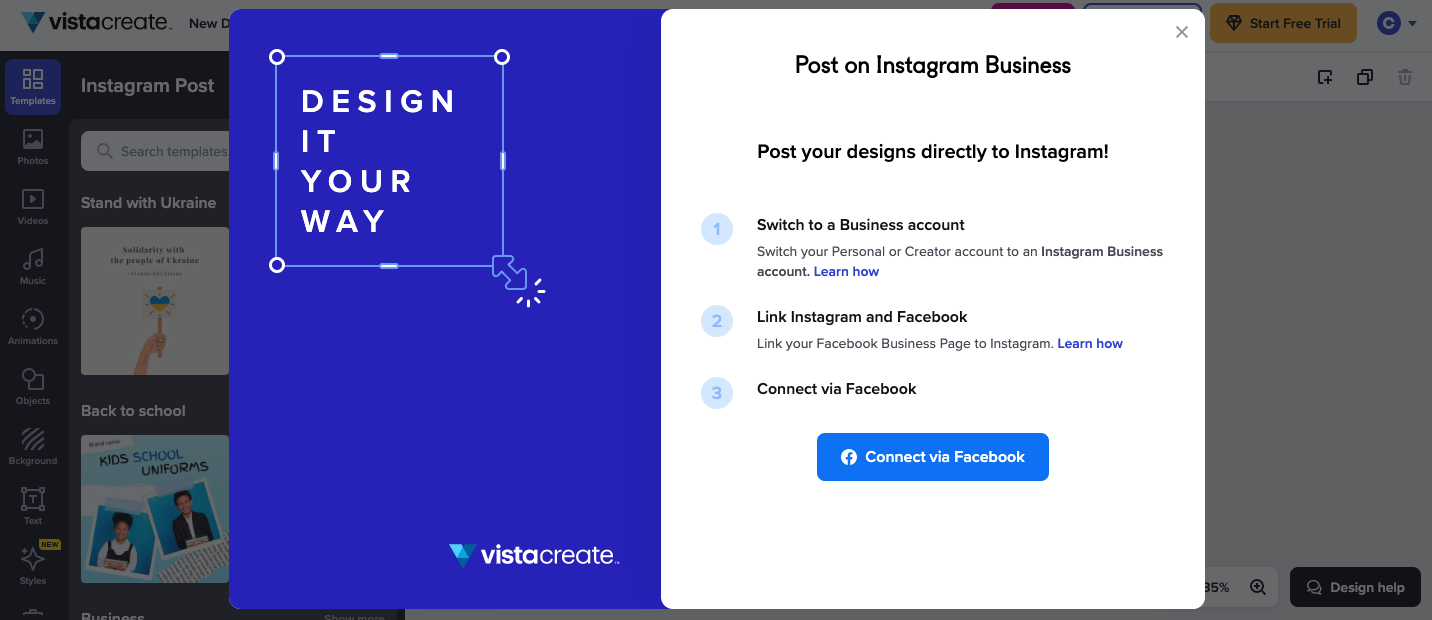 How to post your designs to Facebook and Instagram through VistaCreate
Step 1: Choose a Facebook post or Instagram post format from the VistaCreate menu
Step 2: Customize a template with your images and videos using VistaCreate tools and assets
Step 3: Once the design is ready, click "Post" in the upper right-hand corner of the artboard
Step 4: Select any Instagram Business profiles, Facebook Business Pages, or Facebook groups you would like to post to. Click "Confirm"
Step 5: "Publish"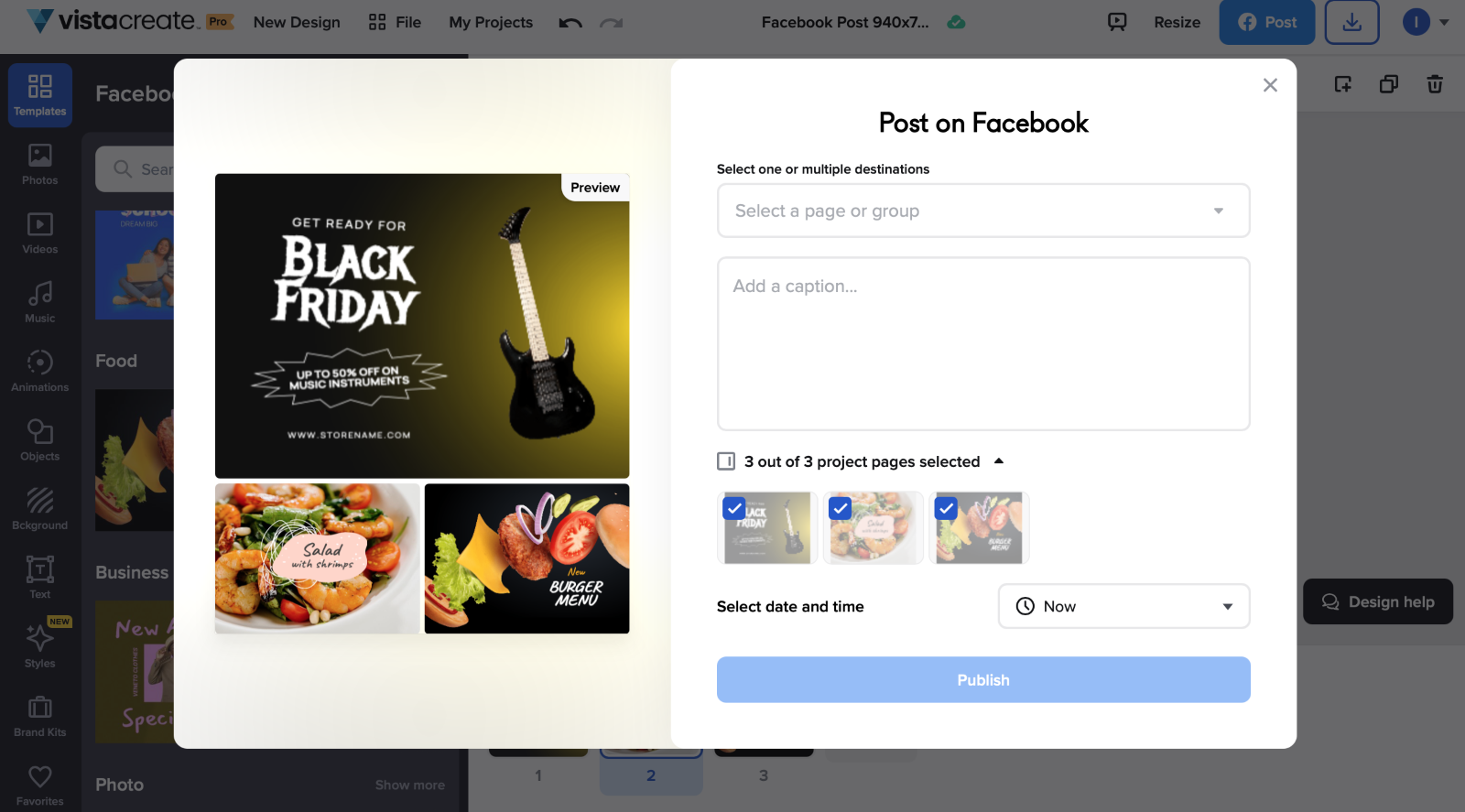 How can I post the same design to different socials?
If you created a design in a different format and do not see the option to post to a particular social media, you can resize it to fit Facebook, Instagram, or Pinterest. Here are the steps to do it:
Step 1: Open the design you would like to resize
Step 2: Click on the Resize icon in the upper right-hand corner of the artboard
Step 3: Choose one or multiple formats
Step 4: Click "Copy&Resize". Your formatted design will be opened in a new window
Step 5: Post it directly to Instagram Business, Facebook Business pages and groups, and Pinterest, as mentioned above, using the "Post" button.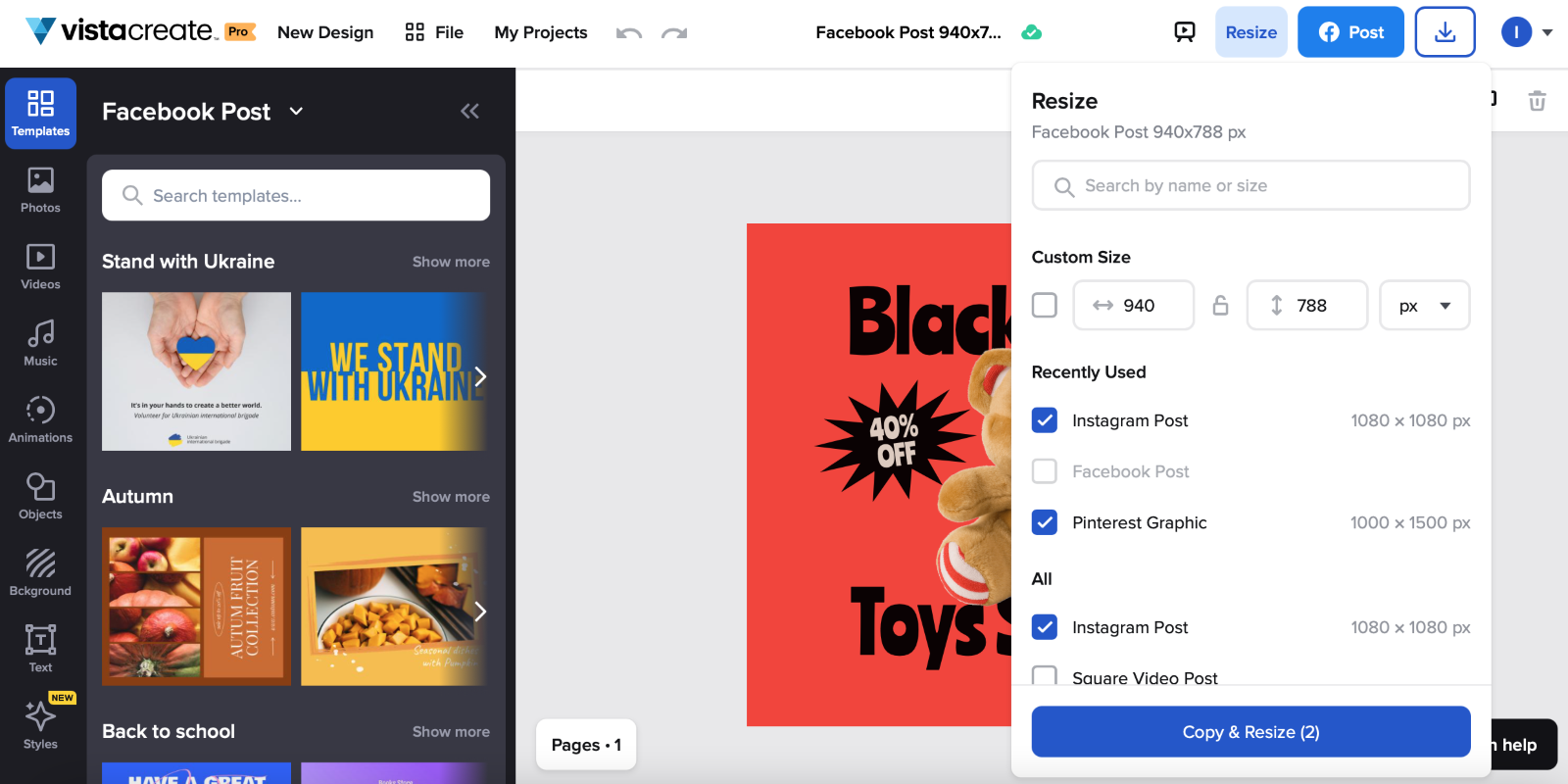 Can I schedule my Facebook and Instagram posts ahead of time?
You can easily schedule your posts for social media in VistaCreate. To find out more about the post planner to schedule your designs, read this article on our blog.