While VistaCreate's design templates and media library are super popular with users, there are times when you might need your own custom media or brand style kit. To do this, you can import videos, images, and fonts onto the platform and use it just like media/font native to VistaCreate.
How to upload videos, images, and fonts
You have the option of importing videos and images in the My Files tab.
Fonts can only be uploaded in the My Fonts tab in the Texts section.
For images and videos:
Go to My Files, click the Upload Image or Video button and navigate to your desired file and click choose.
Static images should be in PNG, JPG, JPEG format and must not exceed 50 MB.
VistaCreate supports video uploads that are in MP4 or MOV formats under 200 MB.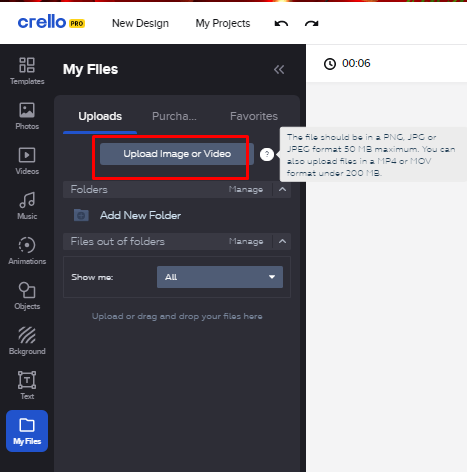 For fonts:
Go to the Texts and My Fonts tab and click "Upload Fonts" (must be TTF 'or OTF format).

SVG files such as icons, vectors, logos, etc. can be uploaded in the test mode. Thus, these files may be pixelated, not properly rendered, or have errors on the artboard.