For any graphic – whether animated or static – the background is usually the first element that comes on the artboard. At VistaCreate, we have given our users access to a wide variety of options to create their backgrounds with ease and flexibility.
In all formats, you can access static backgrounds in the "Background" tab. Animated backgrounds are available under the "Animations" tab and will only show up when you are working on an animated format.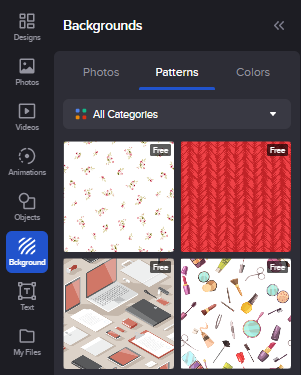 The "Background" tab provides 4 options:
Photos

(these are paid stock images; $0.99 each)

Patterns (most are free )
Colors to create solid single-color backgrounds, and
How to find and use a background
Click on the "Background" tab and select either

photos, patterns,

or

colors

tab. If you want to use your own image as a background, then go to the "My files" tab

and import/upload the image or video.

The

photos

and

patterns

tabs are further subdivided into genre-based categories such as food, travel, holidays, industry, and more.

Clicking on the image you like will place it directly on the artboard – ready to be used!