You can use the preset canvas to create designs. Dozens of formats help you to create projects for social media, blogs, advertisement, etc:
💥 Animated Designs
Square Video Post

Facebook Video Cover

Video Full HD

Instagram Video Story

Facebook Video Story

Product Hunt Thumbnail

Animated Logo

TikTok Video
You can also add a video to the formats that used to be only graphic and download any design in a video (MP4 and GIf) format:
💥 Social Media posts
Facebook Post

IGTV Cover

Instagram Highlight Cover

Instagram Post

Instagram Story

Pinterest Graphic

Snapchat Geofilter

Snapchat Moment Filter

Square Graphic Post

Tumblr Graphic

Twitter Post
💥 Blogging
Blog post
Blog banner
Blog header
💥 Covers & Headers
Facebook Cover

Twitter Header

Tumblr Banner

YouTube Channel Art

YouTube Thumbnail

Facebook Event Cover

Email Header

E-Book

Zoom Background

LinkedIn Cover

Twitch Profile Banner

Twitch Offline Banner

Album Cover

Podcast Cover

eBay Store Billboard
💥 Marketing Materials
Poster

Poster US

А4

Web banner

Logo

Resume

Certificate

Infographic

Label

Invoice

T-Shirt

Coupon

Storyboard

Mood Board

Mind Map
💥 Events
Invitation

Card

Schedule Planner

Letterhead

Menu

Recipe Card
💥 Advertising
Wide Skyscraper
Instagram Ad
Medium Rectangle
Twitter Ad
Large Rectangle
Facebook Ad
Leaderboard
Note: You can open and edit multiple-page designs in the app created on the VistaCreate web version. Currently, users can't change the page order, delete or add more slides, edit audio, and set page duration in such projects in the mobile app. We recommend you use the VistaCreate web version if you want to add more pages, delete some of them, adjust the slide order and work with audio in multiple-page designs.
Artboard size on the web version:
You may set the size of the static artboard up to 25,000,000 px. One side could be a maximum of 8,000 px (means the other, in that case, would be 3125 px):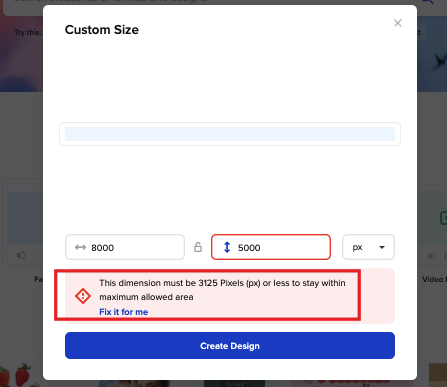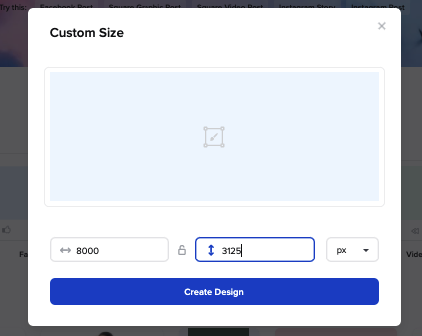 The video formats can be set up to 12,000,000 px in total.
The optimal size for video format could be 3,840 x 2,160 px.
Note: if you would add a video or dynamic element to the initial static large-sized artboard, the editor will ask you to change the dimensions to suitable ones.
You may set your custom dimensions in Custom Size settings at https://create.vista.com/home/ or with Resize feature: