The Starter (free) account plan includes plenty of features:
Photo editing (photo filters, resize, blur, adding text to photos, rotation and cropping images, transparency, etc).
Starter Plan users can add animated effects, audio, video, shapes, stickers, icons to their designs. The free plan gives access to 650K+ unique, premium stock images from Lightfield Productions and 30K+ static and animated graphic design templates.
Starter plan users can use images from the Unlimited collection with attribution.
Starter (Free) subscription has a limit of 5 downloads per month: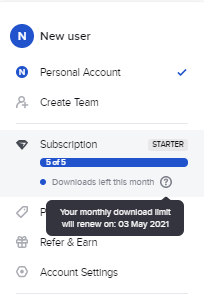 The download limit renews every 30 days counted from the user registration date.
You can download the same design an unlimited number of times within 1 hour and it would be considered as 1 download:
If you download the same project with the interval of 1 hour, it would be considered as 2 downloads.