In VistaCreate, users can create and export multi-slides presentations to have their designs neatly organized into one file and export them as once-piece if needed in JPG, PNG, PDF, PDF Print, MP4, or GIF.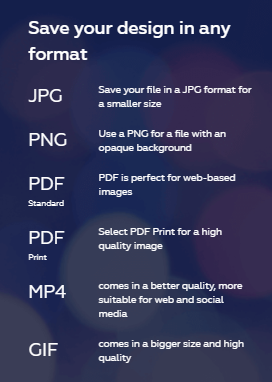 VistaCreate allows as many as 100 pages design export in all static or animated formats.
There is no limitation in terms of duration for animated formats. However, if you intend to export your design in a video format (MP4 and GIF), the max number of slides that can contain any video or animated elements is 30 slides.
If your project contains more than 30 slides, you can download it in any static format. As an alternative, you can divide the project into chunks and download each one in a video format and then glue them with the help of a third-party video editing tool.