In VistaCreate, you have the option of downloading your designs in high-resolution formats. Keep in mind that the format you choose doesn't affect the image quality. Image resolution indicates the size of a picture measured in pixels, while quality refers to image properties such as color, brightness, saturation, etc. Therefore, no matter what resolution you choose, the quality of VistaCreate's templates and visuals will remain high.
If you want to download your design in high resolution, opt for one of the following formats:
#1. JPG
JPG is one of the most popular file formats and works best for digital designs. Most of the social media content and images you see online are JPG files. However, due to the compression that happens when you save a file to your computer or smartphone, JPG images may lose quality. So, don't use this format for designs you want to print. We recommend opting for JPG only for digital use.
VistaCreate formats to download in JPG
Social media:
Square Graphic Post
Facebook Post
Instagram Post
Facebook Story
Instagram Story
Twitter Post
Twitter Header
Pinterest Graphic
Tumblr Graphic
WhatsApp Status
Web:
Blog Post
Blog Header
Blog Banner
Podcast Cover
Album Cover

#2. PNG
PNG is a common image format that guarantees a higher quality upon exporting your design. If you need to save your design in high resolution and avoid compression, choose PNG. It's also the best format to download designs with an opaque background, such as logos. To do so, choose the PNG Transparent format from the list.
VistaCreate formats to download in PNG
You can use PNG for all social media formats listed above plus create covers and ads.
Covers:
Zoom Background
Facebook Cover
Facebook Event Cover
YouTube Channel Art
YouTube Thumbnail
Twitter Header
Tumblr Banner
Email Header
Linkedin Cover
Tumblr Cover
Twitch Profile Banner
Twitch Offline Banner
Online ads:
Facebook Ad
Instagram Ad
Twitter Ad
Wide Skyscraper
Medium Rectangle
Large Rectangle
Leaderboard
Business and marketing:
#3. PDF Print
PDF Print comes in the highest quality and is perfect for printing your designs. It works both for smaller printed materials, such as business cards, and bigger ones, such as posters.
In VistaCreate, you can download your design or send it for print right from the editor. The printing feature works for our print-ready formats (all marked with "Print Online" during preview). You can pick a print-ready design in our editor, customize it, and immediately send it for print. Visit this page to learn more about VistaCreate's printing functionality and which print formats are available in your country.
Note: PDF Print is not as web-friendly as JPG or PNG, so if you want to optimize your print design for web and socials, use VistaCreate's Rezise tool.
VistaCreate formats to download in PDF Print
Business Card
Postcard
Poster
T-Shirt
Invitation
Flyer
Certificate
Gift Certificate
Coupon
Ticket
Menu
Brochure
Label
Recipe Card
eBook
Photo Book
Card
Planner & Notepad
Calendar
Newsletter
Letterhead
#4. MP4
MP4 is a video format you can use for animated designs for socials and your content for eCommerce platforms, website pages, blogs, and so on. For bigger video projects, such as movies, creators use AVI format, which provides the best quality. MP4 is sufficient for Reels, video Stories, video posts, YouTube intros and outros, and TikToks.
VistaCreate formats to download in MP4
Square Video Post
Video Full HD
Facebook Video Story
Facebook Reel
Instagram Video Story
Instagram Reel
TikTok Video
YouTube Intro
YouTube Outro
Product Hunt Thumbnail
Animated Logo
How to double the resolution of your image
Using VistaCreate, you can double the size of your JPG or PNG image without manually changing its dimensions. Our 2x size option can help you achieve higher quality and increase clarity of your designs, especially if you work with small formats (Facebook cover, Instagram post, etc.)
Here's how you can double the size of your image in just a few clicks:
Step 1: Click "Download" in the upper right-hand corner of the artboard.
Step 2: Click "Download as".
Step 3: Choose JPG or PNG, and select "2x original". The design will be downloaded automatically.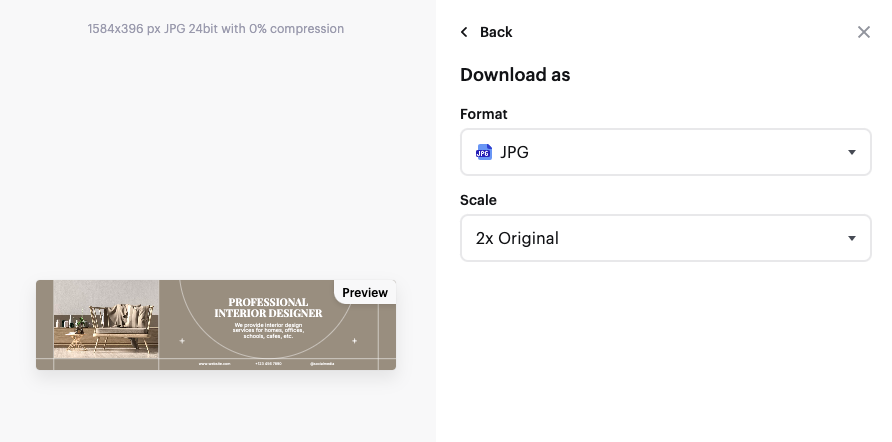 How to export your design in a different format
If you want to choose another high-resolution format for your images, say, optimize PDF Print for your blog articles but maintain high quality, you can easily do so using our VistaCreate Resize Pro tool. It allows you to optimize images to various formats in just a few clicks. Here's how you use this feature:
Step 1: Log in to VistaCreate and open your project.
Step 2: Click "Resize" in the upper right-hand corner of the artboard.
Step 3: Select one or multiple file formats from the list and click "Copy&Resize". Your optimized designs will open in a new tab.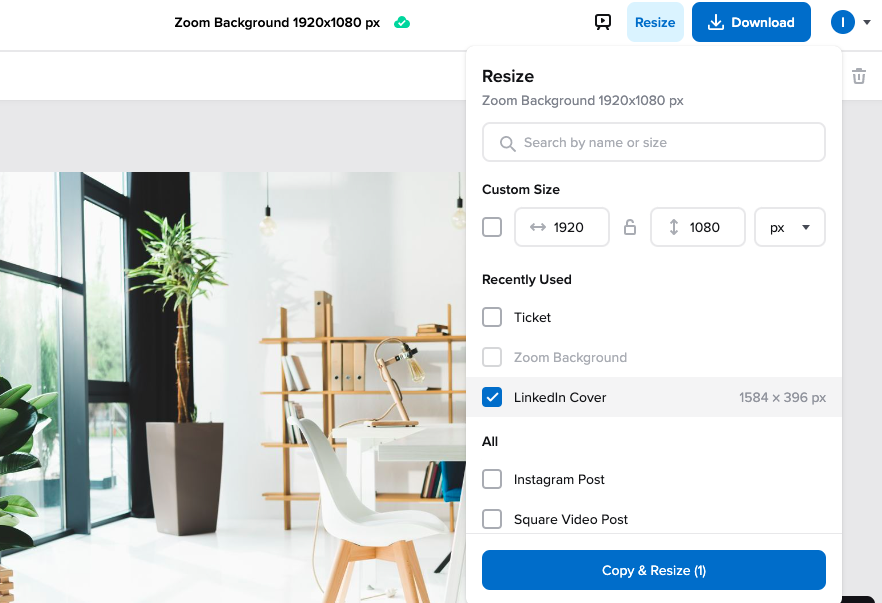 Step 4: Tweak your designs to fit the dimensions of the new formats.
Step 5: Download or share your designs.
Note: before optimizing your designs, make sure all images are 300 dpi or higher to ensure they will not be pixelated after resizing.