Following the latest trends in digital marketing, VistaCreate presents a new format aiming to serve the needs of the digital marketing professionals-animated logo!
Our motion designers created hundreds of original animated logo templates for multiple businesses - from Arts&Handcraft to Leisure&Vacation.
How to create an animated logo?
Option 1: Edit an existing logo template.
Step 1: On the Homepage, type in "animated logo" in the search bar and click the lookup icon to open the artboard:
Step 2: Scroll down to pick a ready-made logo template or browse categories to search by subject or by a keyword: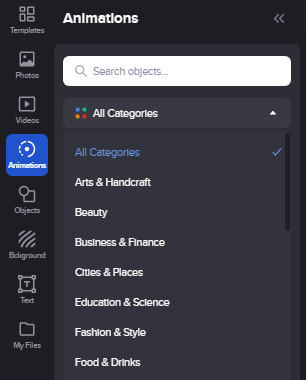 Step 3: Pick a template and customize it - edit the text - replace with your own text and edit formating, spacing and rotation; play with animated effects to add motion to your text or objects; spice up the design - add a video background or a video text
Option 2: Create an animated logo from scratch.
Step 1: Click to create an animated logo design and start from the white canvas - upload your images, video or font
Step 2: Pick the right image or add animated stickers - use your imagination to create a unique eye-catching moving design to attract visitors and drive sales