Saving
When you are logged in to your VistaCreate account, don't worry about saving all the changes
— they are saved automatically thanks to the auto-save feature with which changes are being saved automatically every 5 seconds. You can also force-save the changes -click on the "Save" button and you will see the notification on the upper panel:

Downloading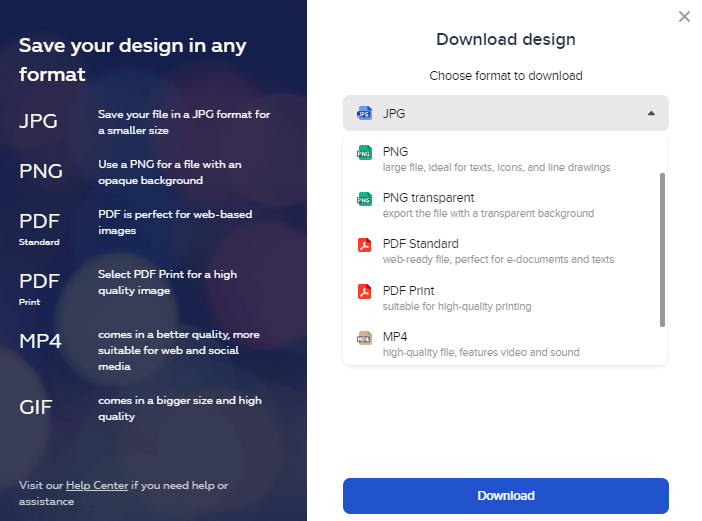 🔹Download your project in any of 7 formats:
▪️JPG - light image file, meet requirements of web-displaying
▪️PNG - prime, uncompressed image file
▪️PNG Transparent - file with transparent background
▪️PDF Standard - web-friendly file, perfect for e-materials
▪️PDF Print - high-resolution printable file
▪️MP4 - high-quality file, featuring video and sound
▪️GIF - small file, excellent for animation, no sound
🔹 Share a link with a full-sized preview of your design:
▪️Share a link or embed the HTML code of your design view.
▪️Send to Facebook Ads Manager.
▪️Share your design to social networks: Twitter, LinkedIn, Pinterest, Reddit, Tumblr, or Facebook (News Feed or Story, Friend's Timeline, Group, Event, or Private Messages).
All the designs you create are stored in the My Projects tab. Here you can manage your designs and add as many folders as you need.
To delete a design, select it and click on the Trash icon. You can delete multiple designs at once by ticking them in the upper left corner and pressing the Delete button. You can drag and drop your other designs to move them to a folder you have created. Managing your designs is easy and convenient.